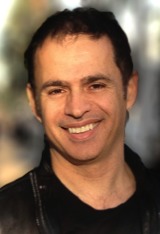 Ever since sitting in a dark theatre as a small boy and being enthralled by Pinocchio, I have been fascinated by the power of film and entertainment media. Years later, no longer content with a thriving career in finance, I left the business world to pursue a life as an actor, writer and director.

My entree into the entertainment field was a collaboration among Israelis, Jewish-Americans and Arab-Americans on a ground-breaking play about the Palestinian-Israeli conflict. 'Ground-breaking' because the issue hadn't been addressed before in the theatre - and certainly never utilizing such high humor. Like a mini peace conference, with Jewish and Arab artists negotiating every line (not to mention the overall message) - what resulted was the critically acclaimed play, Seeing Double, produced by the San Francisco Mime Troupe which toured the US, Israel and garnered Off-Broadway's coveted OBIE award for its NY run.

This first professional experience left me with the unshakeable conviction that theater - and art as a whole, is a powerful catalyst in creating change. After almost two decades of collaborating with fellow artists in the theatre, I have been impacted by remarkable work in the performing arts. Courageous, original, vital pieces that resonate in you long after you've left the theatre.

It has been a dream of mine to work in this synergistic way with artists towards the production of films and other media so that broader audiences can reap the rewards of what I myself have been gifted time and time again. That was the impetus behind the formation of Studio 9, a company led and managed by artists - dedicated to being an environment where we nurture each other towards the creation of works that entertain, enlighten and elevate.

One of the projects in development, that we're very excited about, is America, a film that opens a hilarious window into the little known world of Arab-Americans. America is being produced by Academy Award winning producer, Mark Johnson (Rain Man, Bugsy, The Notebook) and the legendary casting director/producer, Lou Digiaimo (Donnie Brasco). Interviewed by Variety magazine, Mark Johnson compared America to his first film, Diner - calling it the "Arab-American Diner." We are really excited about America because of its universal appeal, gut-splitting humor that's balanced with deep emotionality – which was the feedback we heard over and over again from audience members who witnessed our two script readings at packed theaters here in LA.

America is just one of several projects Studio 9 has in development - from a feature in the vein of The Big Chill, where old friends unite in Paris under odd circumstances - to an Orwellian futuristic graphic novel intended for digital distribution.